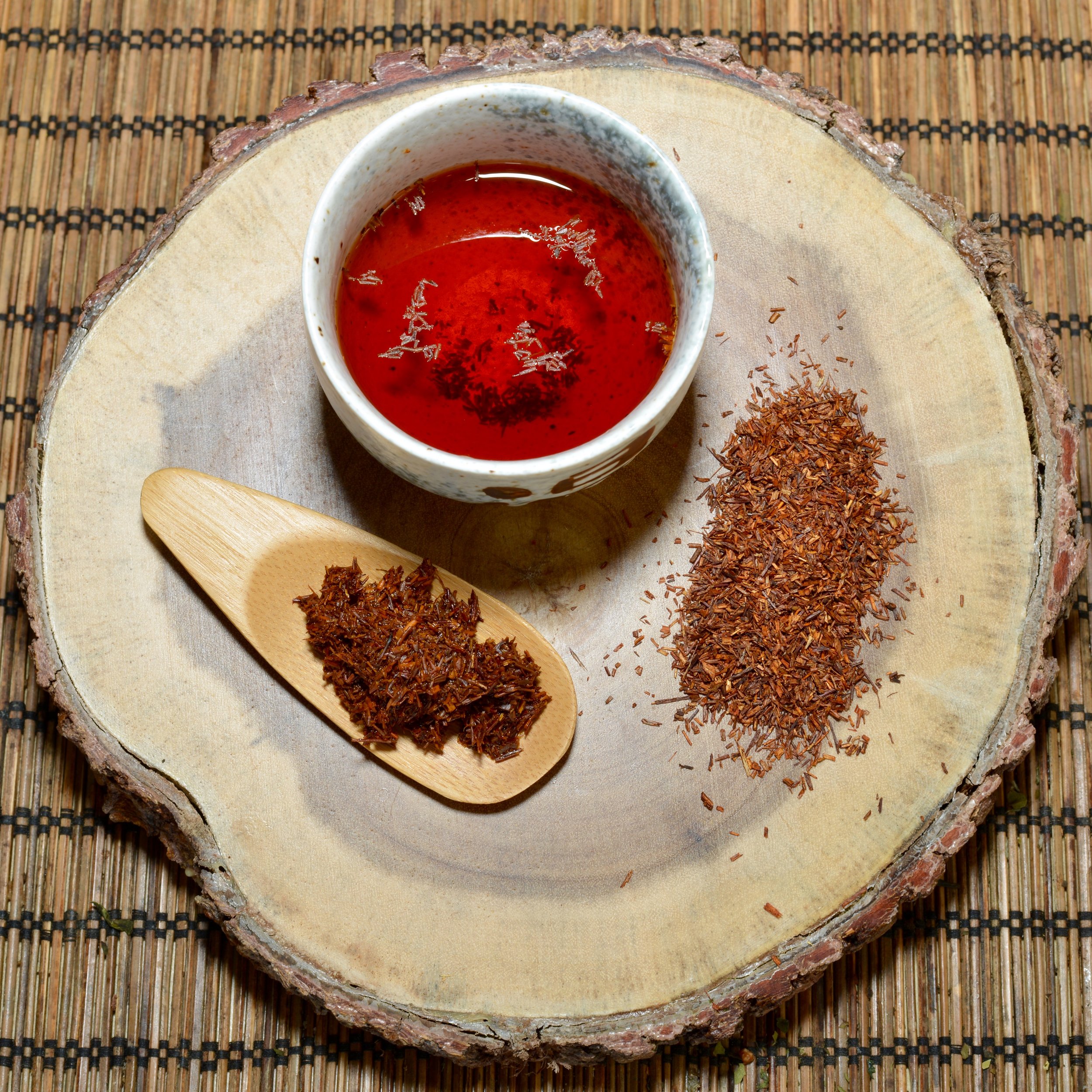 South African Rooibos
Order your tea now and we will ship out by 1 month from order date.
Description: Prized for its attractive red infusion color, rooibos has a robust body and nectar-like flavor. Traditionally harvested in ancient times by the Khoisan nomadic ethnicities of South Africa, rooibos became popularized in the tea industry through Dutch efforts to find an indigenous African analog to black tea. Today, rooibos is grown exclusively in the Cederberg Mountain region of the Western Cape. Rooibos is rich in minerals like iron and is one of the best herbal teas for expecting mothers. This herb is simply delicious as an iced tea and is traditionally served with a lemon. Extra strong infusions of rooibos can replace espresso to create red lattés and herbal tea cappuccinos.
Tasting Notes: Naturally sweet and refreshing pure African rooibos with a deep red, nectar-like infusion.

Ingredients: Organic rooibos
Origin: Fynbos, South Africa
Steeping Recommendations
Water Temperature: 195°F
Leaf to Water Ratio: 1 tablespoon per 8 ounces
Steep Time: 5-7 minutes
We encourage you to experiment with the quantity of tea leaves and the length of the steep time to find your desired brew strength. Varying the water temperature isn't recommended, as water that is too hot will over-extract the bitter components of tea, while water that is too cool might not fully draw out the aromas and flavors of tea.
Additional Info: Rooibos (Aspalathus linearis), meaning "Red Bush" in the Afrikaans language, is indigenous to South Africa's Western Cape where it was originally consumed by the Khoisan nomadic ethnic groups. Today, rooibos is cultivated near the Cederberg Mountain area within the wider Cape Floristic Region, a biodiversity hotspot home to a natural shrubland, or "fynbos," ecosystem.